Intensive Driving Courses in Chester
Drivingtestscarhire is a driving school offering intensive driving courses throughout Cheshire, including the Chester area. So, if you're looking to pass your driving test fast in Chester, Malpas, Tarporley, and the nearby area, then read on. With one of our courses, you could get your full UK driving licence just weeks after booking!
It couldn't be simpler to book a course with Drivingtestscarhire. Start by choosing one of our range of nine different courses—each with a different length, suited for learners with different experience levels. Once you've found the course for you, you can then book online or by calling our team on 07855 948 747 or 0800 019 0970.
On your course, you'll receive dedicated one-on-one lessons from one of our fleet of DVSA-approved instructors. All of them have been received an A or B grade from the DVSA, meaning that you're in safe hands on the road. You'll also be able to take each course at your pace—so, for example, a 25-hour course could be taken intensively over a 5 day period, or spread out over a few weeks.
If you don't want the hassle of constantly having to change gears whilst driving, you may wish to consider lessons in an automatic car. Luckily, you can take any of our courses in either a manual or an automatic car; however, be aware that prices may vary.
After your course hours, you won't have to worry about long driving test waiting times—thanks to Drivingtestscarhire's fast-track practical test service, you could be on the road months quicker than most other drivers.
Why Choose DrivingTestsCarHire?
Courses to suit all drivers
Flexible driving lessons to fit any schedule
Learn with experienced instructors
Home and workplace pickups
Pass in as little as one week
Why Choose DrivingTestsCarHire?
The Chester practical test centre is likely to be the best option for most learners in the area. The centre is located just outside the city, around 5 miles to the north of Chester city centre. The nearest alternative test centres are Garston (Speke), Garston (Liverpool) and Widnes.
Theory Test Centres in Chester
Conveniently, learners who still need to take their theory test will simply be able to head to the Chester theory test centre. This theory test centre has a very central location, being 6 minutes' walk away from Chester train station. Remember that you won't be able to take your practical test without a valid theory test pass certificate, so make sure to pass your theory early! Other local options include Liverpool and St Helens.
If you're still waiting to take your theory test, DrivingTestsCarHire can book it for you! Visit our blog for tips on how to pass your theory test.
To give you the best chance of passing your practical test first time, your course hours will largely be spent in the area surrounding your test centre. This will help you to familiarise yourself with local road conditions, including any roundabouts, junctions, and different road types. It should also help you to gain a good understanding of where hazards may appear.
If taking your test at Chester, you may find yourself quickly challenged by both urban and rural driving: busy dual carriageways, such as the Chester bypass (A494), as well as country roads in the rural areas surrounding Chester. However, whilst the test is intentionally difficult, and there's no guaranteed pass, it's definitely not impossible—and with your DrivingTestsCarHire course under your belt, you'll be well prepared for anything the road can throw at you, giving you an excellent chance of passing first time.
Which Areas Does DrivingTestsCarHire Cover?
DrivingTestsCarHire's range of courses are available across many parts of the UK. As well as learners in Chester, Malpas and Tarporley, our courses are also available in other nearby areas, including:
As long as we cover your area, you could learn with a DrivingTestsCarHire instructor and get your licence within weeks. So, make the best decision of your day. Start your journey by calling 07855 948 747 / 0800 019 0970, or book online.
"Passed my test on the 1st attempt and only got 2 minors. I would definitely recommend to everyone. Thanks a lot — just wish I would have used you a long time ago!"
Weather Forecast in London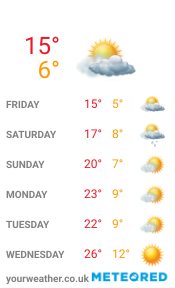 Book a course with us and we'll find you a fast-track practical test: